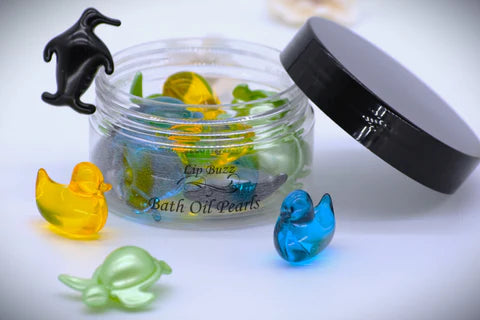 An Sea Life Ocean collection comprising of:
Arctic Penguin | Jasmine
Sea Turtle | Kiwi
Duck | Lemon
Duck | Clear Ocean
Treat yourself the way you deserve, Essential oils in perfect quantities. Not too much not too little, just enough for your ideal bath. Ideal for any gift of love and passion.

Allow us to aid you in allowing your shin to look its best, with one pearl watch the release of stimulating fragrance and healing oils to tickle the senses and rejuvenate your body and soul. Our pearls are designed to hydrate and moisturize, leaving you refreshed.
Each bath oil pearl is intended to dissolve in warm water to release the oil that softens your skin. The scent gives you the ultimate bath experience and leaves your skin feeling silky smooth.
The ideal gift for you, your friend, your loved one, and your family. Self-care is for everyone. Enjoy.
Find them here: